AVAILABILITY – WHEN AND WHERE
We are pretty much booked out for 2019 and only have a couple of gaps:
5 – 15 September (approximate dates). Istanbul, length flexible.
Open to offers WORLDWIDE from December (flexible dates).
We are always interested in offers to house sit in SPAIN, and particularly in Madrid.
We prefer stays of 3+ weeks to offset the cost of travel & insurance, and to allow us to enjoy the area a little.  Shorter periods are sometimes doable though, so don't hesitate to get in touch. Please note that the Christmas period is when we are most in demand and at this time of the year we prefer longer stays of 6-8 weeks, preferably longer.
If we cannot help you, we may know someone who can!
Information we need from you
If you haven't already, please read the information on How It Works before filling out the form below. This way we can both ensure we are on the same page from the start.
We also have a series of FAQs that will answer other burning questions you may have. If you would like to proceed, please include the following information in your message:
The dates you need us for: Are they fixed? Can we arrive a day or two in advance so we can do a handover in person?

Your location: We don't need your exact address, but at least the general area where you are based.

About the area: What are the neighbours, and the neighbourhood as a whole, like? How about access to public transport, supermarkets, etc?

About your pets: How many? How old? Any health issues? Character?

About the house and your requirements: Plants to water? Lawn to mow? Pool to maintain? Other?

Internet speed: Please go to speedtest.net, click on "begin test" and send us the results for Ping, Download Speed and Upload Speed.

Lastly, please send us current photos. We don't need to see the whole house, but at least the bedroom, bathroom, kitchen and living area. Also garden if maintenance is required. You can add them to a Dropbox folder (or similar) and send us the link. Pictures of the pets would be great too! If you prefer, you can give us a live tour on Skype/Facebook instead.
THANK YOU! We will reply as soon as possible (typically within a few hours), and, if we both feel we want to take things further, we will ask to chat on Skype or Facetime so we can "meet" each other and discuss things in more detail. If we both agree to proceed, we would then ask you to complete a more thorough agreement/questionnaire with more detailed information, so don't worry about going into a massive amount of details here.
Send us your booking inquiry:
IF WE ARE NOT FREE FOR THE DATES YOU REQUIRE, or you don't think we'd be a good match after all, may we recommend that you join a house sitting platform such as TrustedHousesitters.com.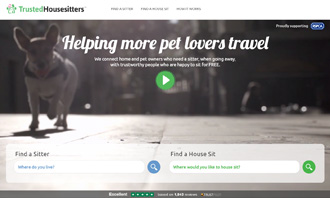 Another platform we use and recommend is HouseCarers.com.