Meet Mark & Maria, the Cat Mad Sitters
Originally from the UK and Spain, we were in our mid 30s and having a 'normal' life in England, until bad experiences at work encouraged us to abandon the rat race and go on an adventure. After selling our house and everything inside it, we quit our jobs and went backpacking for 21 months through the Americas and Oceania.
Although we later settled down in New Zealand for a few years, the travelling bug never left us and we started to grow increasingly restless.  With jobs we could do from anywhere with an internet connection, we started to look for ways we could take our life on the road, and when a local couple told us about house sitting as a lifestyle, we knew we had the answer.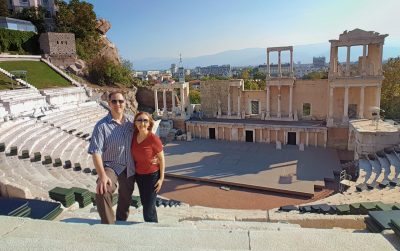 Within 2 months, we had sold or donated everything we owned, and our international house sitting adventure started in April 2014.
After 3 years living and loving the nomadic lifestyle, we started to miss feeling part of a community. We also missed having a place to call home, where we could return to whenever we needed a break from travelling. At the same time, we needed to find a home in a place which would not "break the bank" to maintain when we left it for weeks or months at a time.
We also wanted a challenge! We were looking for a place we had never visited before and where we didn't speak the language, so that coming home didn't feel like going back to a comfortable routine and an "easy life", but like a little adventure of its own.
By chance, we visited the beautiful city of Plovdiv in Bulgaria and found that it ticked all the boxes. When we're not house sitting, we love spending time here. We are active in the community and founding members of its new Rotary International club. We have found the Bulgarian people incredibly welcoming and supportive (particularly of our feeble attempts at speaking their language, which is quite a challenge in itself!), and have been humbled by their generosity more times than we can count.
If you haven't visited Plovdiv yet, we strongly encourage you to! Here's a little taste: CNN Travel: 10 reasons to visit Plovdiv, Bulgaria's hidden treasure.
But as much as enjoy our time here, it's never long before our wanderlust comes calling and drags us away. So as long as we are healthy, can make an income online, and there are pets to love and a world to explore, we will continue to house & pet sit as it has become such a big part of our lives!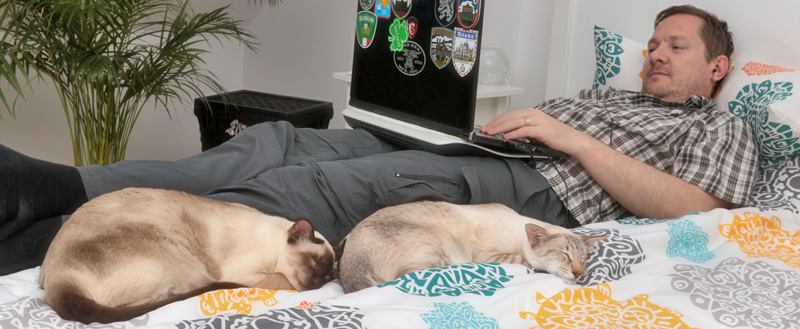 Mark was born in the UK. He is a great problem fixer and a technophile. A software developer by trade, he has a full time job working remotely for a UK company, but he still finds plenty of time to play with the cats!
He has a cheeky sense of humour and an inquisitive mind. And don't tell him I said this, but despite his 6'2″ frame, he's a big softie at heart!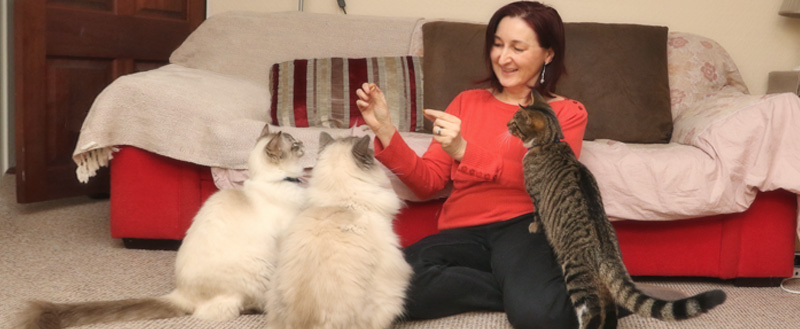 Maria grew up in Spain, but she has spent half her life in English speaking countries. Bilingual in English & Spanish, she also knows a bit of German and French. She is the person behind this website and facebook page.
A keen photographer and aspiring cat behaviourist, she is the main cat, house & garden carer when on assignment, and wears her 'crazy cat lady' badge with pride.
Some Quirky, Fun, Personal Facts About Us
We met at a fancy dress party in the UK and got married on top of a snowy mountain in New Zealand.

Whilst living in New Zealand, we volunteered at our local SPCA one afternoon a week.

We don't smoke and have never taken drugs of any sort. Our biggest vices are chocolate & ice cream.

We are childfree by choice. Do we hate children? NO! We just recognised that parenthood wasn't for us.

Little known talents of ours include juggling (Mark) and knowing how to solve a Rubik's cube (Maria).

We both loved cat cartoons as children: Top Cat was Mark's favourite; Maria's was Pixie, Dixie & Mr Jinks.

We carry a variety of cat toys in our suitcases – this helps us bond with the cats much faster.

We travel everywhere with Ben & Kylie (long story!). They were the only guests at our wedding.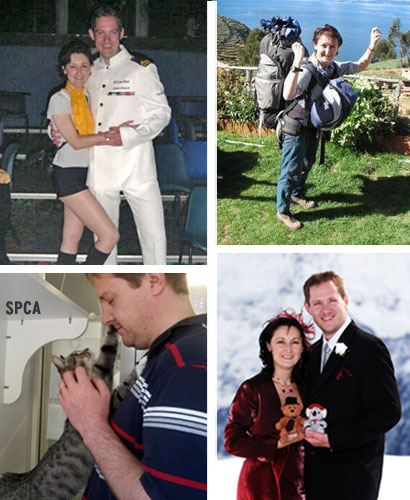 When I met Mark in 2002, I was living and working in London and he was settled in Leeds, where he shared a house with Gollum, a little rascal he had adopted from his local cat shelter. Mark and I had only met a couple of weeks earlier, but when I first travelled to Leeds to visit him over a weekend, and Gollum settled on the sofa with us as we watched a film, I knew I was home.
Gollum was only about a year old, still a playful kitten with bundles of energy, a hunger for cuddles and attention, and a penchant for chasing anything you threw in front of him.
When we arrived home from work in the evenings, he would either be waiting for us by the door, meowing animatedly as if demanding to know where we'd been all day, or come bounding over from the bottom of the garden, where he had no doubt been chasing after birds or playing with Poppy, the neighbours' pretty calico girl.
Sadly his time with us was cut short after he was killed by a car one Friday night. Mark picked up his lifeless body from a neighbour's house, where he had been found in the morning. We buried him in the back garden and cried for days. We still miss him to this day and think of him whenever we meet a black cat or play with his favourite toy.
This site is dedicated to him, and he's the reason we have a black cat in our logo.